Lefkada Greece | Alfresco Villas
Lefkada Greece is one of the Ionian islands. A wonderful location for your dream holiday. If you are looking for a luxery accommodation with stunning view, Alfresco Villas is for you.
Alfresco Villas is located in one of the most beautiful places of Lefkada. From the terrace you see not only the bay of Sivota with the sailing boats, but also the mountains on your left hand side and the Ionian Sea on your right hand side. In a word the view is breathless. Alfresco Villas is the umbrella name for Villa Nirvana (upper villa) and Villa Tranquility (lower villa). The villas are nearly identically and suitable for large families and groups of up to 8 people. Because each well-equipped villa has its own access road, parking, infinity pool and terrace. The villas are located on the mountain slope on the west side of Sivota Bay, so you can enjoy the beautiful sunrise.
Sivota Bay is a picturesque harbor village in the south of Lefkada Island. By car it's a 5 minutes' drive from the village center to the villas.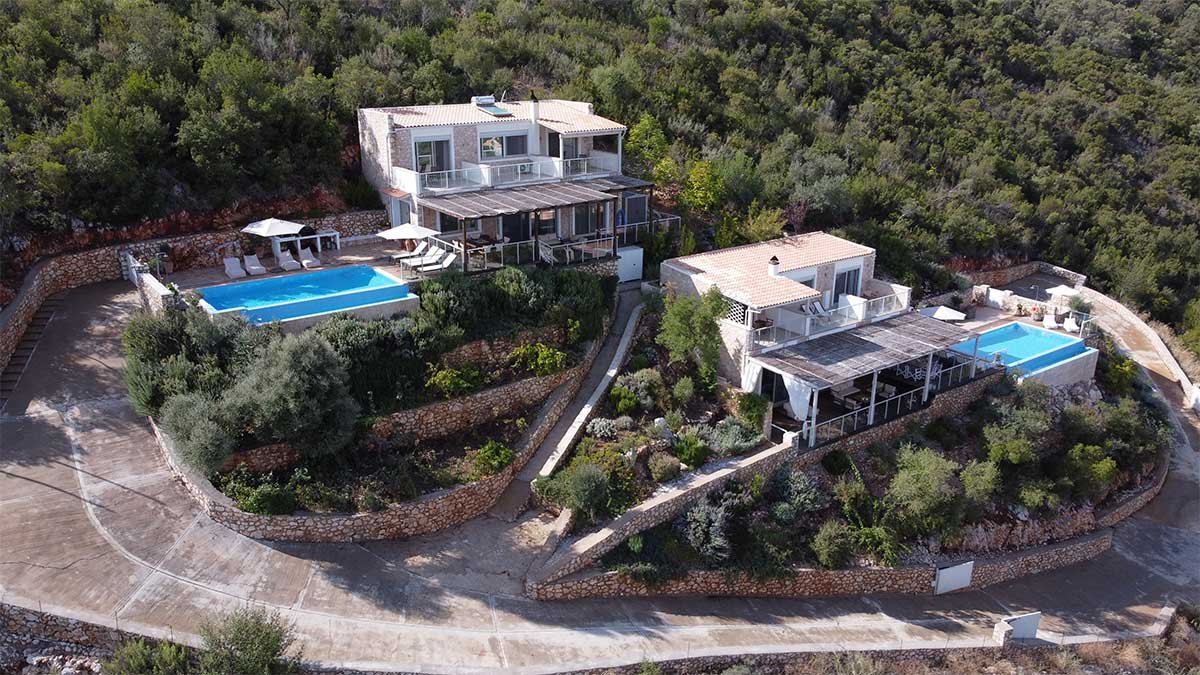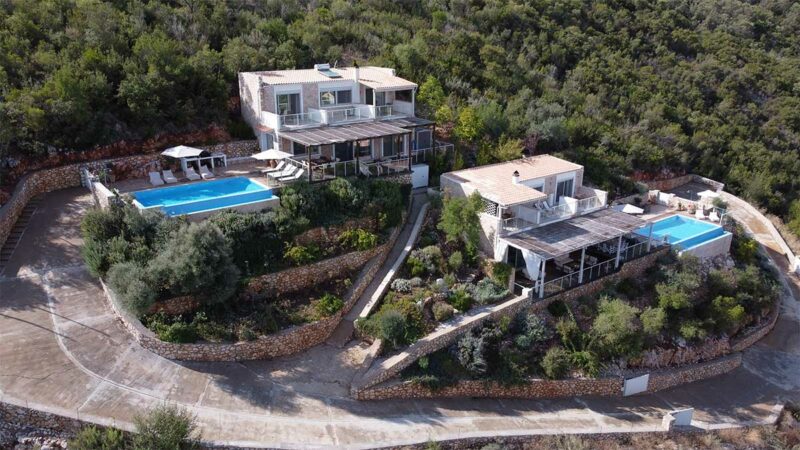 Book now your holiday
Please check the calendar above to see if a villa is available in the period you prefer. If so, you can book straight away by completing the fields below and clicking the SEARCH button. You will see which villa is available and the costs per night. By clicking the BOOK NOW button, you will get the total price for the given period. You can book instantly and pay with a credit card. We require a 10% down payment when booking. You will receive the invoice for the remaining amount 35 days before the arrival date.
If you do not have a credit card or if you want to make an enquiry, please also complete the fields below and click the SEARCH button. Choose your villa and click the corresponding ENQUIRY button. Next, fill in the form and click SEND ENQUIRY. If you do not find a reply in your inbox within one day, please check your spam folder.
Reviews – Alfresco Villas –
Inl@oggen
The villa is great, even better than in the pictures and with an amazing view. It has everything you need and was larger than we expected. The hosts online and in person were very helpful and helped us to organise things like a food shop and renting a boat locally. As mentioned the hill is very steep, it is just about walkable on occasion if you don't mind a challenge and stopping for breathing breaks regularly, however if you need to get anything up to the house a car is needed as mentioned. We had a great time and would visit again – thanks!
K. Dillon and friends from the United Kingdom, Villa Tranquility
Inl@oggen
Woh! When we first walk in to the villa, past the infinity pool and through to the kitchen to then go outside to see the view, will forever be in our hearts!! The welcome from Barbara and the booking through Alfresco Villas with help and guidance from Marjon at every step makes for a great start to our holiday. The interior with air conditioning being very welcome after a hot day a the beach. Well equipped kitchen and the luxurious feel to the villa throughout makes it a wonderful home from home.
We really enjoyed the restaurants in Sivota, the kayaking, hiring of the speed boats, beaches, shopping and the lovely people. We will miss Lefkada, but we have made some very special memories here and have had the most amazing two weeks. When we are hard at work and our life gets busy and maybe when we are feeling low, we will just think of this view and the days we had.
A. Hooper and family/friends from the United Kingdom, Villa Tranquility
More information about Lefkada Greece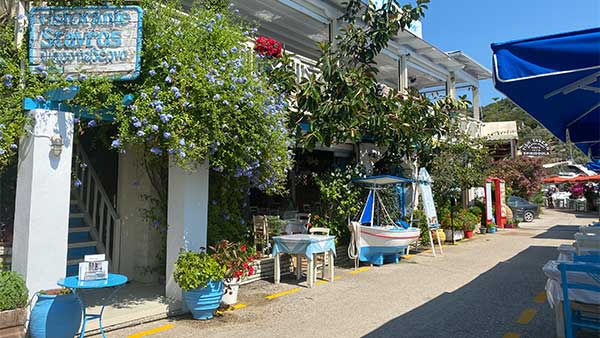 Lovely restaurants
Sivota Bay is a stone's trow away. The restaurants are situated on the waterfront. There is so much choice that you can dine in a different restaurant every night. We can recommend, in no particular order, 12 God, Family restaurant, Sivota Bakery Cafe, Spiridoula, Taverne Stavros, Odyssey Taverna, The old Plane Tree in Kontarena and Vliho Yacht club in Vliho. We can also recommend Amente and Rachi. These restaurants are on the west coast. It takes about an hour, but it is worth the drive. You can enjoy a beautiful sunset here.
Lots of activities to do
Lefkada is an island with beautiful beaches and bays such as Porto Katsiki, Egremni Beach and Agiofilli beach. Without doubt these beaches are among the most beautiful beaches of the world. The Ionian Sea is one of the most beautiful places to sail in Greece. Discover not only Lefkada and the surrounding islands such as Meganissi, Ithaka and Kefalonia but also Paxos and Corfu. Further more you can rent a motorboat in Sivota bay or book a boat trip with a rugged RIB. You can find more information on our What to do in Lefkada page.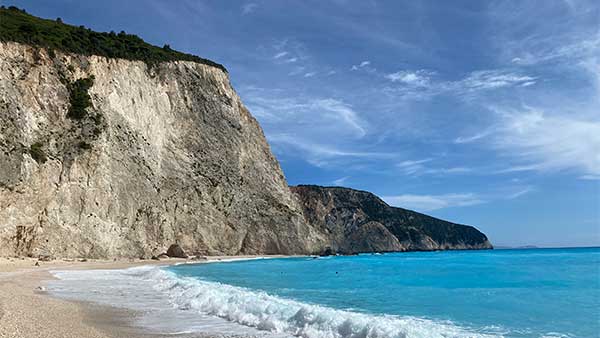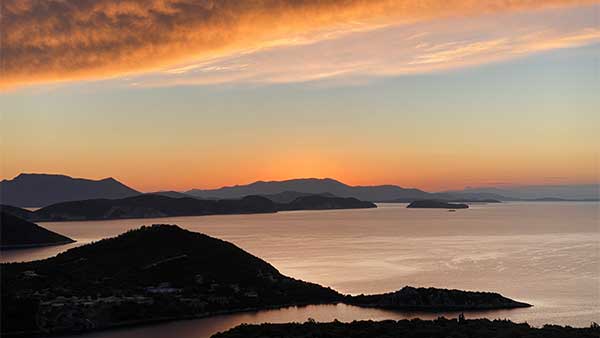 Beautiful weather
Lefkada has a warm Mediterranean climate, influenced by its location in the Ionian Sea. The summer months are warm and sometimes even hot. During the summer months rainfall is rare. For more information about the weather in Lefkada Greece click here.
Easy to reach
The airport is 52 km from Alfresco Villas, just over an hour away. Preveza/Lefkada Airport also known as Aktion Airport is an international airport in Greece. Click here to see from which cities in Europe you can fly to Preveza.  You can also find out which airlines fly into Preveza/Lefkada Airport, so you know where to book a flight. It is also possible to reach the island by ferry, bus and car. See our page How to get to Lefkada.